If there is one truth in the world today…it is that when it comes to communication we are not doing very well. Let's be honest as problems increase, as we draw more verbal lines in the sand, the only solution that can solve the problem is more effective communication.  And yet communication with each other seems to be a greater challenge.
We all know in our business and personal lives that poor communication leads to numerous problems. We want to believe that we are great when it comes to our communication…and yet…we often seem to miscommunicate.  But how often do we say things in the wrong way, want to prove that we are right, or maybe we hide ourselves from the conversation, rationalize with negativity, or not give our best effort in our communications with others. The fact is we all need to do better and we can do better…how?
A Communication Book for Everyone
Communication expert Michelle Gladieux joins this episode of A New Direction to help us "Communicate with Courage" and do it in a way that makes us more effective with others, create clarity, and face the fears and take the risks with courage to overcome our communication fears and challenges.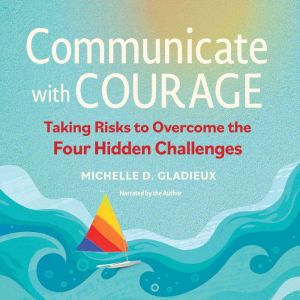 Michelle' Gladieux's book "Communicate with Courage: Taking Risks to Overcome the Four Hidden Challenges" is an insightful look at the multi-faceted diamond of communication.  The book addresses many questions, such as: What kind of communicator are you really?  What do others think of you as a communicator?  How does your personality play a role in your communications?
Of the four basic challenges of communication which one or ones do you struggle with most?  Are you "Hiding"?  Do you Define to be "Right"? Are you one who Rationalized to the "Negative"?  Perhaps you communicate to just be "Good Enough"?  Whatever your communication challenge Michelle Gladieux and Communicate with Courage gives you a clear path to overcoming fears and taking the risks that are critical to better business and personal relationships.
Please reach out and thank the sponsors of A New Direction:
EPIC Physical Therapy.  Whether you just had surgery, maybe you were injured, perhaps feeling like things are hurting and not just quite right, perhaps you just need some guidance to get in better shape, or you are an elite athlete getting yourself back into the game, the certified experts coupled with the latest state of the art equipment will help you get you where you want to be.  Professional Athletes and people like you and me choose Epic Physical Therapy for three reasons:  They know that they will get EPIC relief, EPIC recovery, and EPIC results.  That is EPIC Physical Therapy.  Head on over to www.EPICpt.com and learn more!
and
Linda Craft & Team, REALTORS, for more than 38 years they have helped thousands of people all over the world make a life transition.  Why do we say "life transition"?  That is because wherever you have lived you have experienced a transition in life.
So when it comes to buying and selling real estate in your life there will be a "life transition".  Linda Craft Team, Realtors would love to help you take the stress out of this part of your transition so it can be so much smoother..  Completely locally owned and unaffiliated Linda and her expert team can help you find the best expert in real estate regardless of what company they work for.  Just one more reason why for more than 38 years they have been known as the "legends of customer service".  Give them a call!  Click on over to www.LindaCraft.com
A New Direction uses Blubrry to host and distribute their podcast shows.  After testing so many I am convinced they have the best distribution and fanatical support learn more by clicking over to https://blubrry.com/services/podcast-hosting/?code=jayiz