From Worrier to Warrior
We all face challenges in life. Some are personal and some are professional. Whether you are facing a divorce, death of a loved one, a financial crisis, or your business is flailing and failing. Life can confront us with challenges.
How do you handle challenges? Are you a nuclear reactor that explodes and blows up everyone around you? Or perhaps you ignore it and hope it goes away? Or do you have another plan?
Martin
will share with us his 7 step process to uncover the Warrior within each of us and L.I.F.E. (Live Incredibly Full Everyday)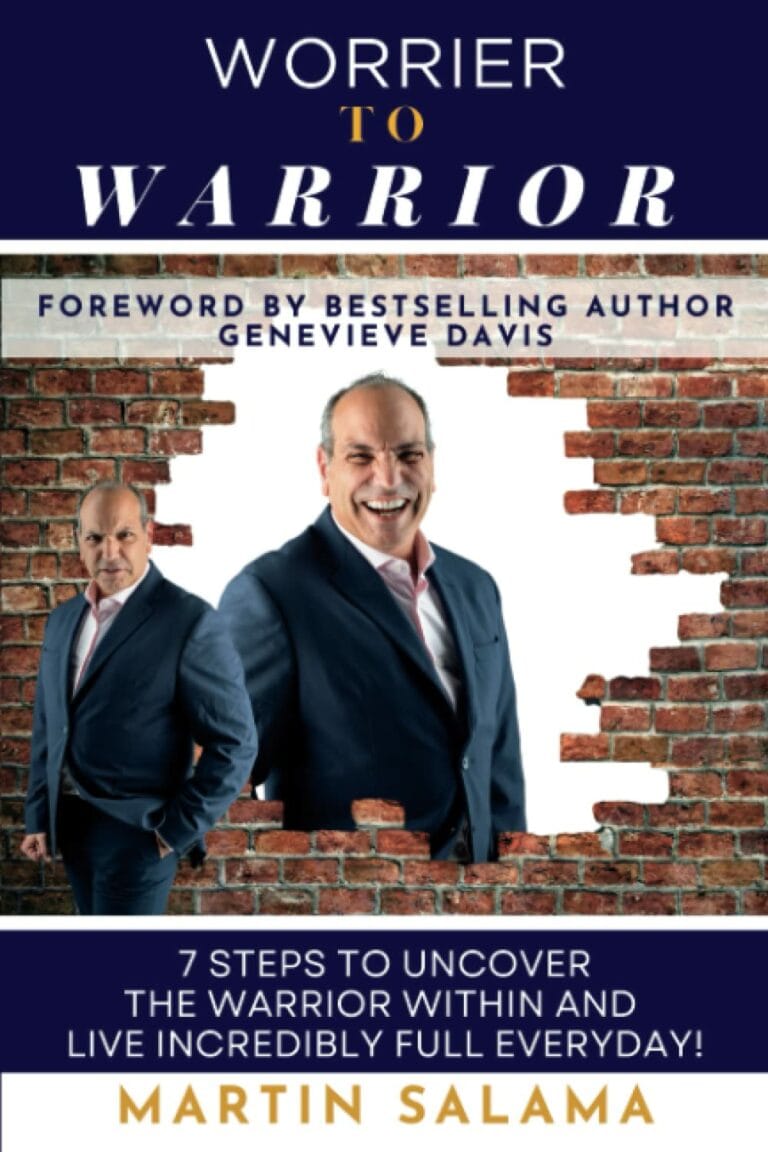 Martin Salama's book, "
Worrier To Warrior: 7 Steps to UNCOVER The Warrior Within and Live Incredibly Full Everyday
" is a fun, practical, insightful book that will help you become the person you were meant to be.
Worrier to Warrior
starts with taking a deep dive into you.  The fact is we don't know ourselves as well as we think we do.  And sometimes we don't want to look at ourselves because we don't want to deal with our own stuff.
And there are times we don't want to look at ourselves because it also means looking at our past.  Dealing with our past hurts, traumas, and pain.  But as Martin demonstrates is when we look at our past that we can reveal our warrior future.
The book is easy to read.  It is filled with acronyms that make the learning process easy.  The practical tips are not difficult in concept, but as Martin points out they are going to be challenging fo you to carry out.  It will take work.
Are you ready to move from "
Worrier to Warrior
"?  Are you ready to live a life of positivity and abundance rather than lack?  Then this book is for you!
Please thank the sponsors of A New Direction for their financial support by LIKING their business pages and or send them a note of appreciation.  Of course the best way thank them is to use their services and tell them you heard them on A New Direction.
Epic Physical Therapy, certified, and with cutting edge technology and therapeutic equipment.
They treat you as a whole person helping you reach the goals you have to be the best physical person you can be.
Whether it is everyday aches and pains, to surgery recovery, to professional athletes, Epic Physical Therapy provides, EPIC relief.  EPIC recovery.  and EPIC Results!  Check them out by clicking on over to www.EPICpt.com
Linda Craft Team, Realtors, fully locally owned and operated, and unaffiliated with an national brand.
For more than 38 years Linda Craft Team has developed relationships with the world's best real estate professionals to help people like you have an amazing experience when it come to selling their home or buying a new one.
If you are looking to connect with the best person in your area…why not start with Linda Craft & Team, Realtors drive on over to www.LindaCraft.com
Look, if you are feeling stuck in life, or stuck in your business a coach can help you by taking a drone's eye view of the situation and give you clarity.
Or perhaps you have a team who is in need of a direction, I can help there too.  I work with individuals, business teams and sports teams in developing a growth mindset, and help business sales teams in discovering methods to increase sales and more!
So if you are feeling that you need a different direction, or perhaps you have a team that is in need of a different direction, then let's talk.
The first call is free and we can find out if I will be a good fit for you and your team.
My business is Coaching Mavericks, because there is a Maverick in all of us that when we find our way with our own unique gifts, talents and abilities, we will be the most successful.  Find me at www.coachingmavericks.com