So you are a leader.  Maybe you are a team leader, or perhaps an owner, a manager, or maybe you are an entrepreneur and you are your own boss.  The fact is you are doing the best you can to lead.  You are challenged by the everyday busyness.  It seems like you are putting one fire out, and another ember starts and boom!  Another fire needs to be put out.  You have caught your self feeling busier and busier, you are feeling overwhelmed, the emails keep piling up, you cant catch up.  You are so caught up dealing with the day to day, minute by minute hassles that you know you are losing sight of the big picture.  Sound familiar?  So what do you do?  Well if you are like most people you probably cut out something you really need like sleep.  There is another answer.  And it flies in the face of conventional thinking.  It is counter intuitive.  You can even say paradoxical.  The answer:  Slow down to Speed Up.
Dr. Liz Bywater joins us on this episode of A New Direction with her book, Slow Down to Speed Up: Lead, Succeed, and Thrive in a 24/7 World.  It may not make sense when you first hear it, but then as Dr Liz Bywater starts explaining why it works it comes to make sense that in reality slowing down will actually allow you to be more effective, more efficient, and more successful as a leader.  Slow Down to Speed Up is like having a complete tool box that has practical applications and exercises you can do look at why you do what you do, learn about the real you to be most effective, and give you the tools and techniques so that you can truly be the leader you always knew you could be.  Slow Down to Speed Up is a great book, short read, and a game changer for anyone who wants to grow in leadership and be more successful.
Please say thank you to our sponsors:
Enlign Business Brokers and Advisors:  We are so grateful to them for their support of A New Direction.  They are internationally recognized as the leading experts when it comes to selling businesses.  If you are a business owner at some point you are going to want to sell your business, and you are going to want the highest market value and you will want it done with complete confidentiality…and that completely describes Enlign Business Brokers and Advisors.  You can learn more by going to www.ENLIGN.com
Linda Craft & Team, REALTORS, for 35 years they have the world wide reputation of having legendary customer service in the real estate space.  They have helped people all over the world either find the right real estate professional to help sell their home, or find their next home.  And if you live in the Raleigh, Durham, Chapel Hill area you can stop by and learn first hand about why people choose Linda Craft & Team as their real estate expert.  Head on over to www.LindaCraft.com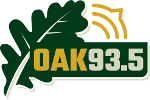 Also make sure you check us out on The Oak 93.5 where you can listen to A New Direction Thursdays 4 pm EDT and Sunday mornings at 10 am EDT.  Just click on over to www.OAK935.org and LISTEN HERE!