When it comes to work freedom is the last thing we think about.  Most of the places we work at for instance use some sort of a hierarchy.  But what if you could truly have freedom at work?  What if you really mattered?  What if your opinion mattered?  What if you were given more choices within your job?  When we think about those questions depending where you are at in the hierarchical chain you may see it as a utopia or simply impossible.  On this episode of A New Direction Founder and Owner of WorldBlu Traci Fenton takes us on the beginning journey on moving your business from a dictatorship into a democracy, where people experience freedom at their work.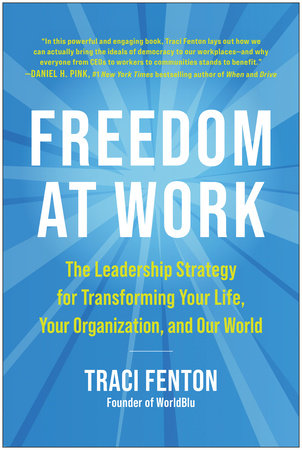 You as a leader may be saying to yourself, "it's not possible to give people freedom and be successful".  As Traci Fenton will share with you that companies that have embraced a true democracy guided by her company Worldblu in the course of 3 years experienced a 700% revenue growth….that is not at typo, 700%.  You will hear Traci restate in the show.  The fact is embracing democracy and leadership democracy in your business is going to take a shift in mindset, design, leadership, and most of all courage.  So if you are ready to grow take a listen as Traci Fenton and Jay Izso talk about her ground breaking book, "Freedom at Work"!
We are so grateful for the financial support of the sponsors of A New Direction. Please go to their websites and thank them.  Even going to their social media pages and giving them a LIKE would be awesome!
EPIC Physical Therapy is the choice of professional athletes as well as people who have been injure or recovering from surgery.  Listen even if you just want to move and feel better they can help with that too.  They have the latest equipment and technology, but perhaps their greatest asset is their people.  They have the certified staff that will design a customized treatment plan specifically for YOU.  They understand that therapy is more than physical, it is also a mental, emotional, and spiritual recovery as well.  Look if you want EPIC Relief, EPIC Recovery, and EPIC Results start with EPIC Physical Therapy – www.EPIC pt.com
Linda Craft & Team, Realtors, their clients say that their customer service is "legendary" and the reason for that is because for 35 years they build and maintain personal relationships with their clients.  Why?  Because buying and selling of a house is a great deal more than a business transaction, it is a life altering experience.  That's because we don't just live in a home, some of our most significant memories will be made in that home.  Linda and her team are dedicated to taking care of your memory maker as if it were their own.  Whether you are about to purchase a new home, or sell your current home, start with the relationship legends.  Start with Linda Craft & Team, Realtors – www.LindaCraft.com